News
Consultation
The Enfield Learning Trust have taken the decision to consult on the following two issues:
A reduction in the planned admission number at Chesterfield Primary School from 120 to 90 from September 2018. This reflects the reduction in under 4's in the north east of Enfield.
The separation of Bowes Edmonton into a stand alone school. There are two options - to become a 2 form entry primary school, or to become 1 form entry primary school with a special primary school for children with Social Emotional and Mental Health. In the case of the latter option, they would be stand alone schools but based on the same site.
The consultation period is now open. More information on the proposals and details of how you can have your say can be found on the attached leaflets at the bottom of this page.
December 2016
Year 2 Christmas Concert
Well done to the Year 2 Team and all the children in Year 2 for their fantastic performance of 'A Midwife Crisis'. All the children performed with lots of enthusiasm and it was a delight to watch. It was thoroughly enjoyed by all the parents, staff, children and governors who came along to watch it.
Cedar Class Showcase
Well done to Cedar Class, Rahma and Sharon for presenting our very first Bowes Showcase. The Top Hall was transformed into a Gallery presenting a huge range of art work. The class helped to host the event by welcoming visitors, stamping tickets, describing their work and directing people around the exhibition. It was a fantastic afternoon with lots of positive feedback.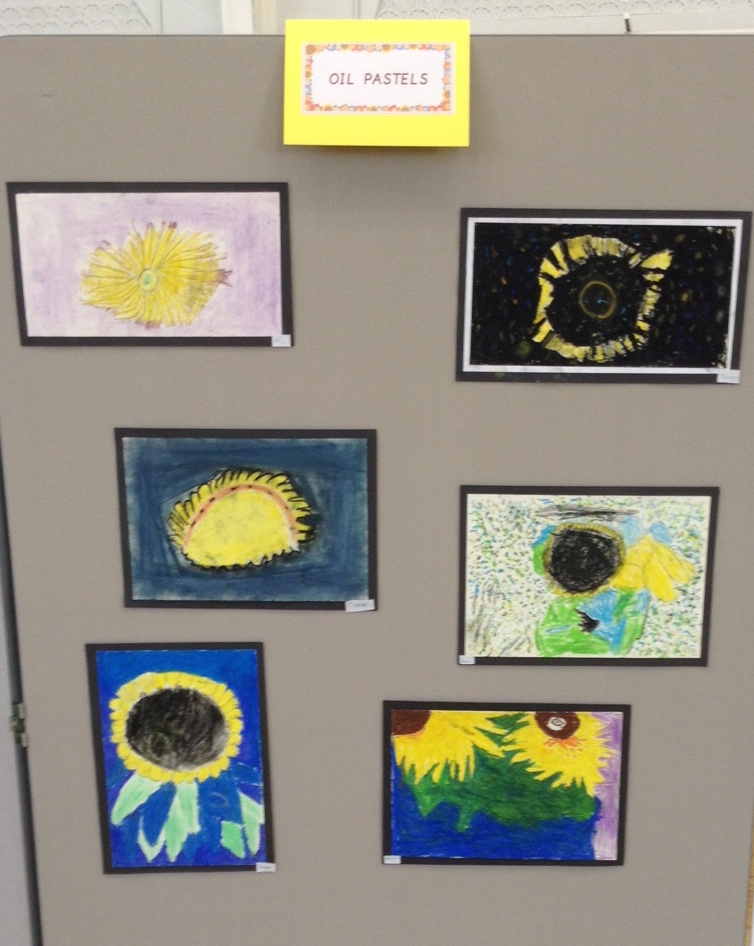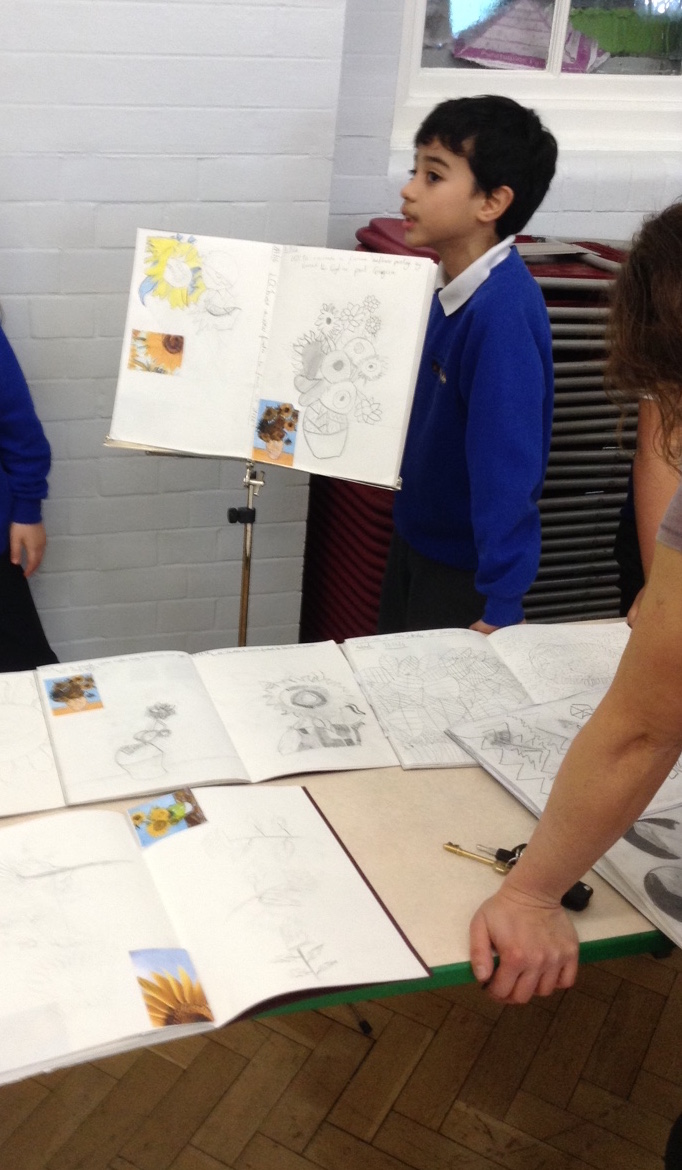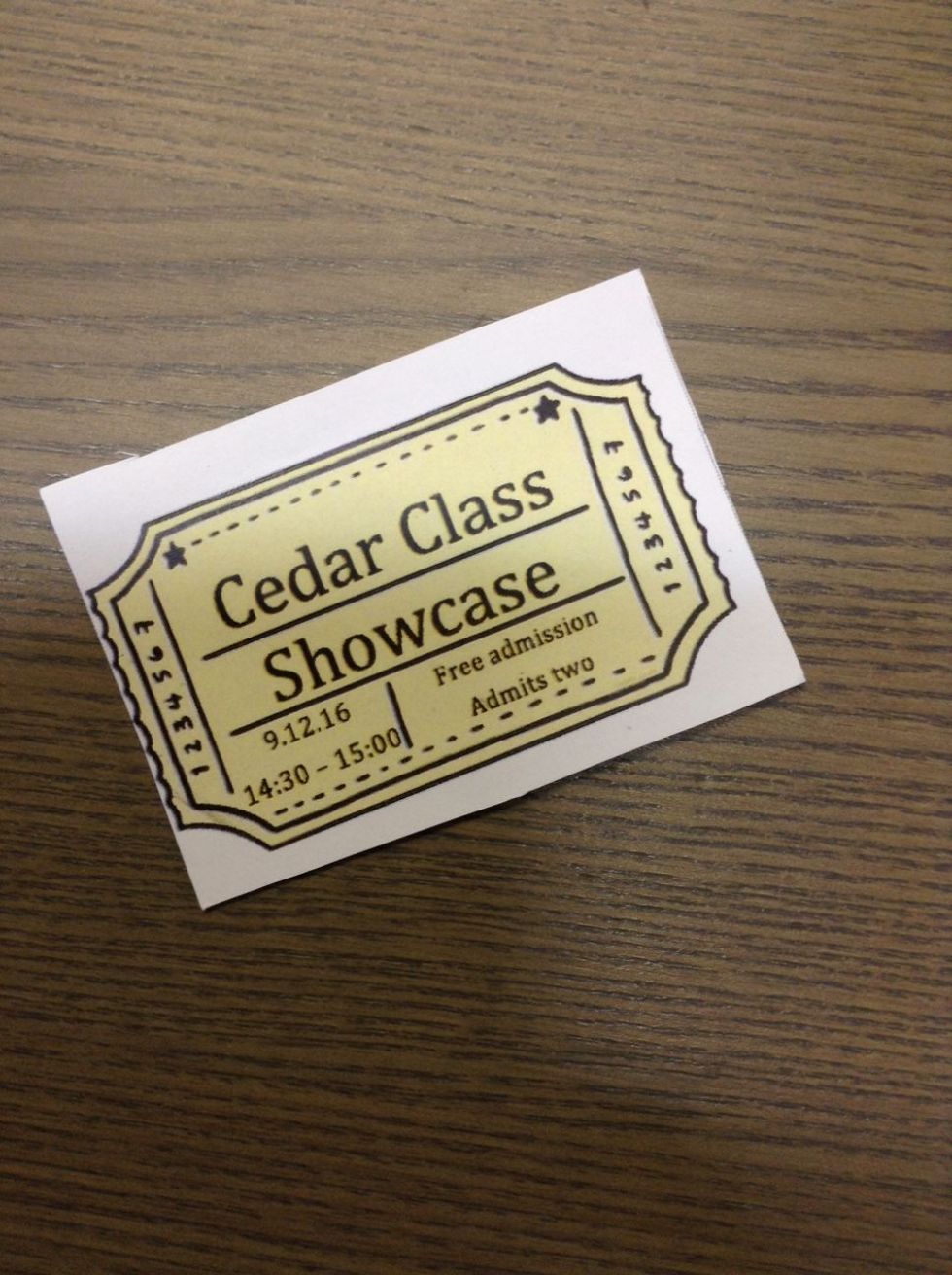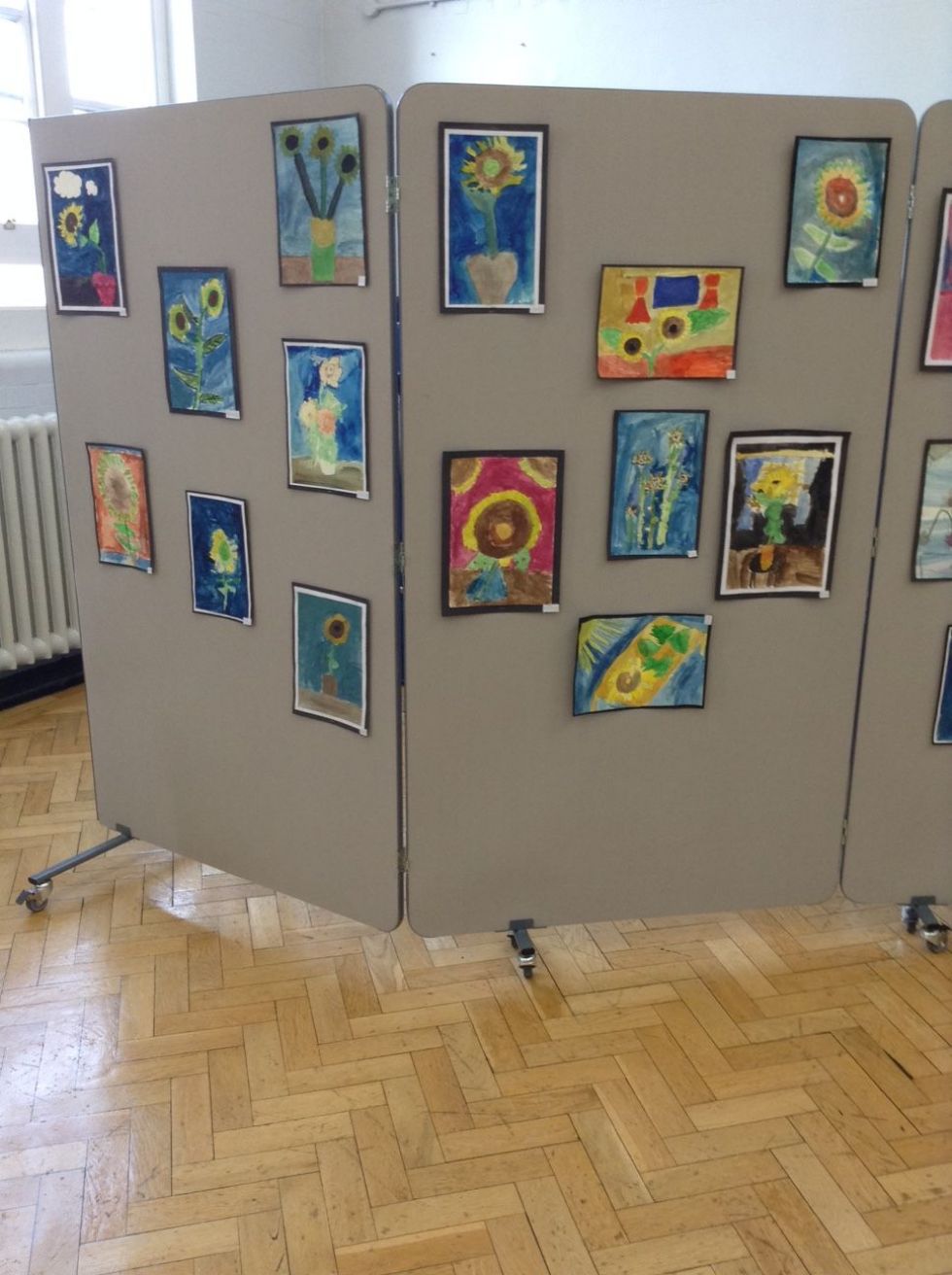 Reception Christmas Singing
Well done to our Reception children who shared their first performance together, you were all amazing! Thank you to the Reception Team for such a fantastic Christmas Sing Song. The children looked great, were confident and full of smiles.
Bowes Choir at the Royal Albert Hall
Our Year 5 & 6 Choir took part once again in the CLIC Sargent Concert at The Royal Albert Hall. They had prime position at the front of the stage and sang with passion and enthusiasm that we have become accustomed to! They were a credit to the school and we were immensely proud of them. This year special guests included: Urban Strides, Tom Billington and The Beat Box Collective. Topping the bill and wowing the audience was our very own Melanie Masson! Comments from the Choir included:
"It was the first time I had ever been and it was amazing. When I first saw it I thought it was jaw-dropping...I can't wait to go again next year!"
"I think it was the best trip of every trip I've been on (EVER)."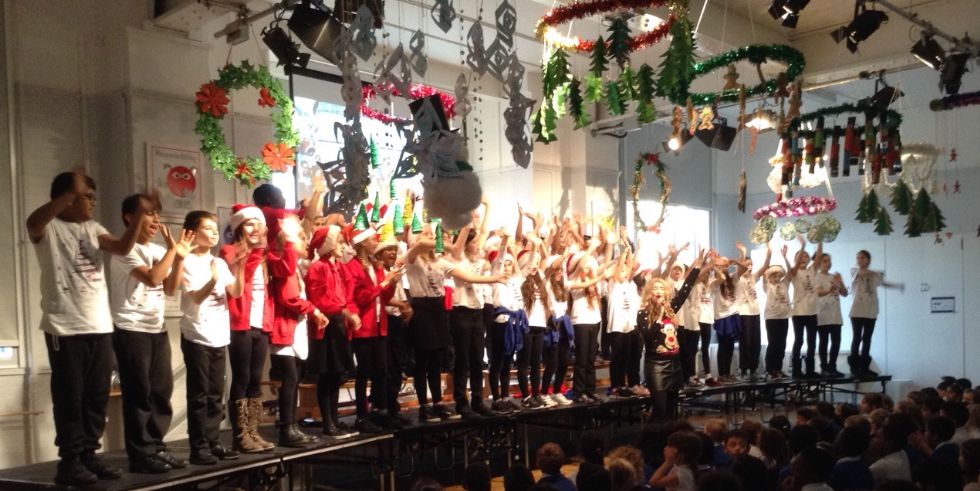 November 2016
Enfield Mayors Award For Public Speaking
Two children, Amber and Ash in Year 6, have been competing in the Public Speaking competition and the final took place at Bowes. Amber spoke about the very important topic of childrens mental health. Ash spoke about getting the voting age reduced to 16. They both performed extremely well against some really tough competition and we are very proud of them. Ash came first and was commended for the content, structure and delivery of his speech. The certificates and plaque were awarded by Deputy Mayor Christine Hamilton. Well done Ash and Amber!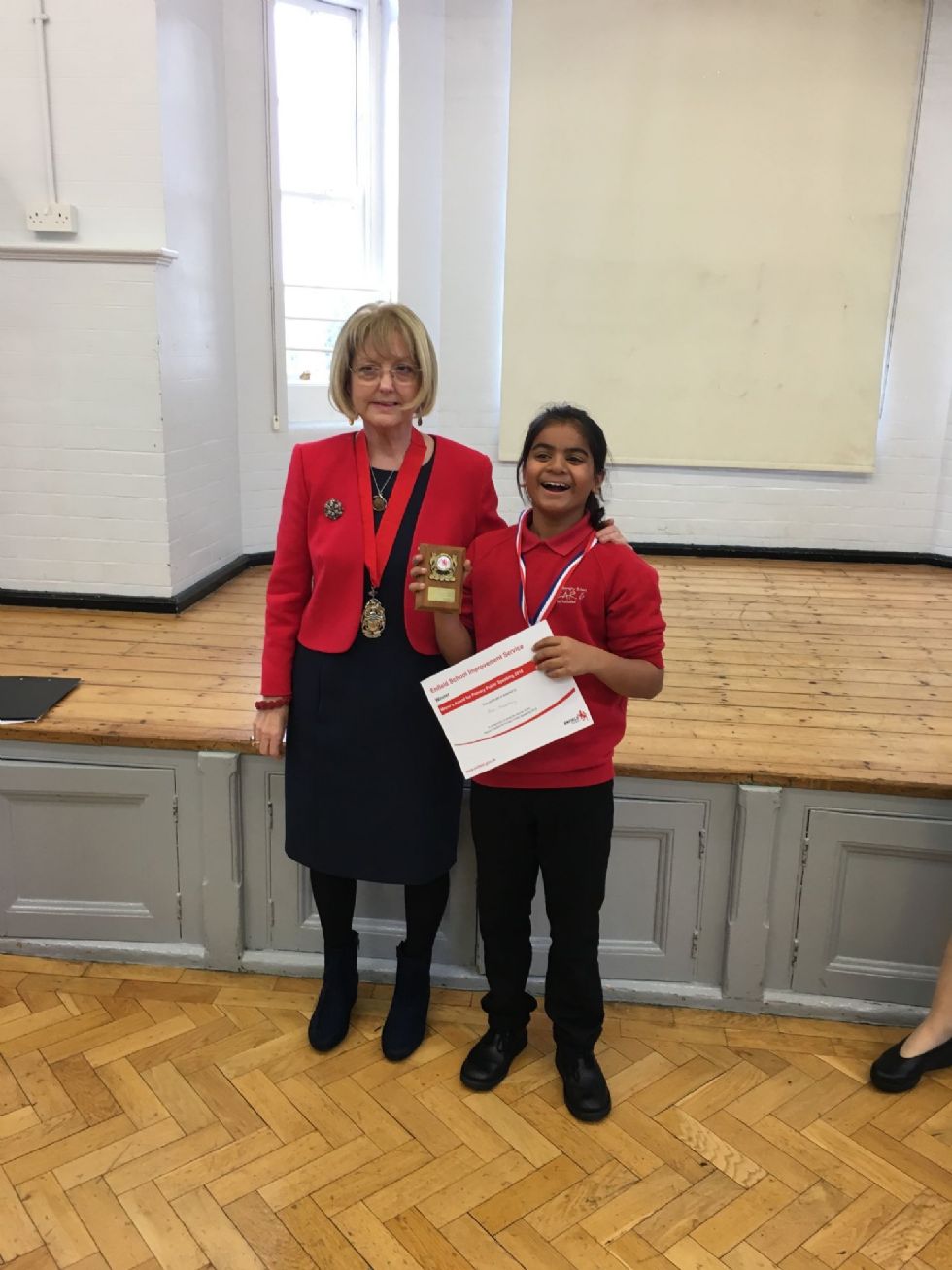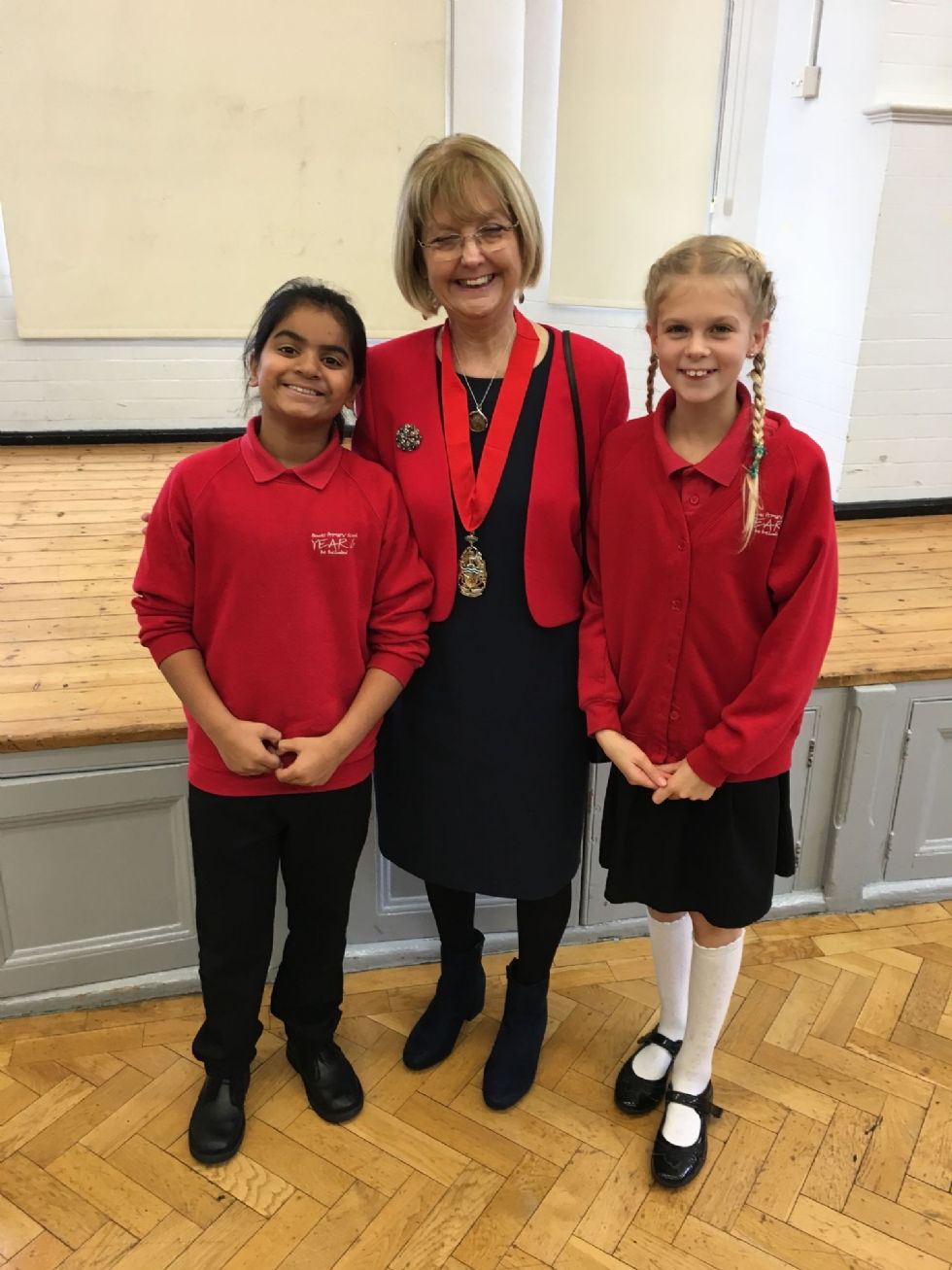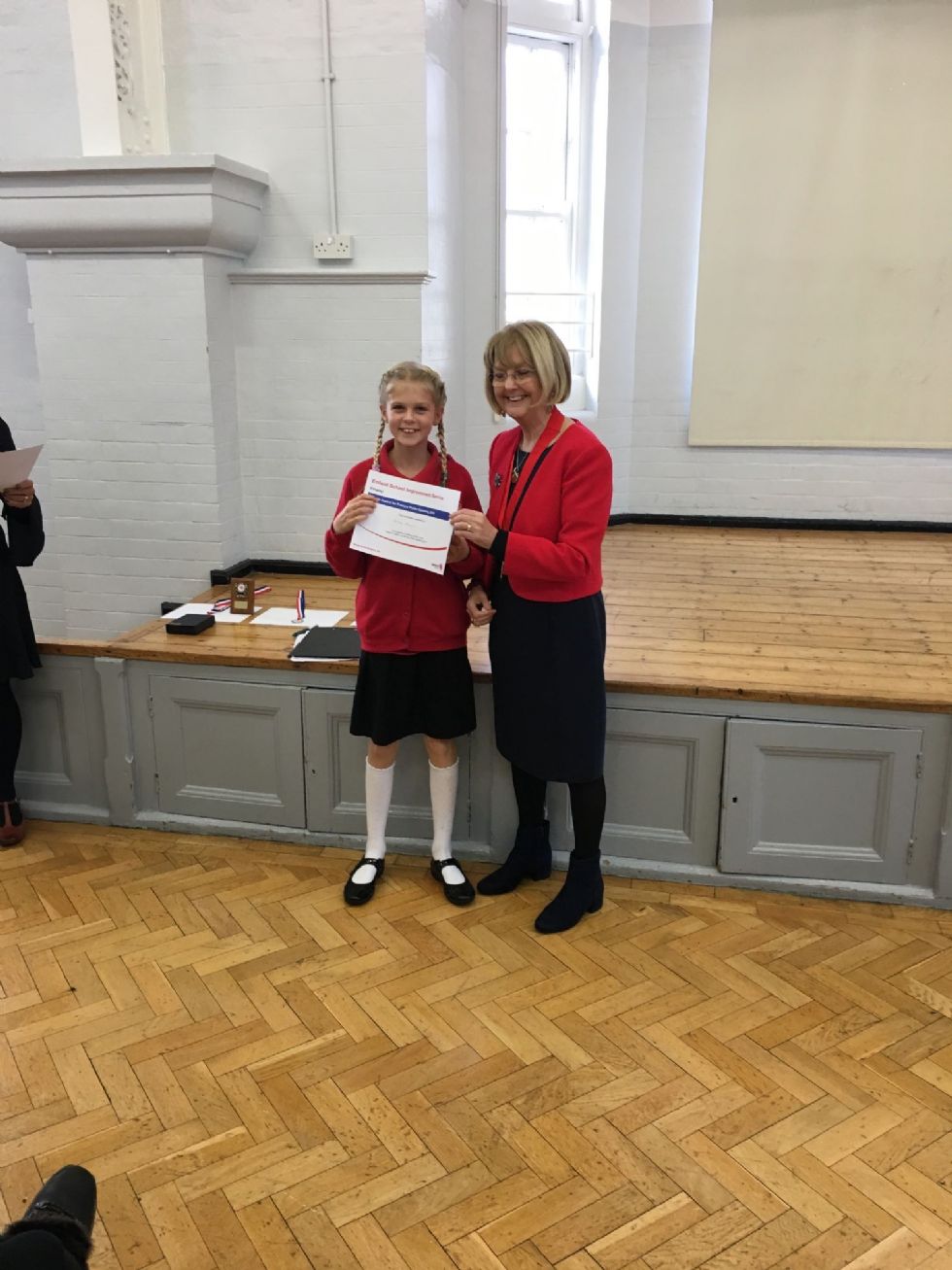 Anti-Bullying Ambassadors
Four children recently attended the Diana Award Anti-Bullying Conference held at Alexandra Palace, along with students of all ages from the South of England. Prior to the Conference students had been invited to come up with an idea for stopping bullying using technology that would educate others and promote safe use of the internet. The Bowes representatives came up with an idea for an app with emoji games that would promote kindness. They made a short film and submitted to the Diana Award. They were then shortlisted, along with two secondary schools, to make a presentation at the Conference. Bowes were the winners and received £200 to spend on anti-bullying initiatives in school. Well done Abdo, Finn, Mariam and Evie!
Anti-Bullying Day
Last week all children took part in activities to raise awareness of the meaning of bullying and to share their ideas of how to stop bullying and the importance of looking after each other and remembering to be kind. KS2 children were all in mixed-age classes for the day. There were some fantastic lessons going on with opportunities for circle time, role play, stories and discussion about the topic. In the afternoon the children all drew their 'helping hands' to highlight what to do in the event of bullying and who to go to for help.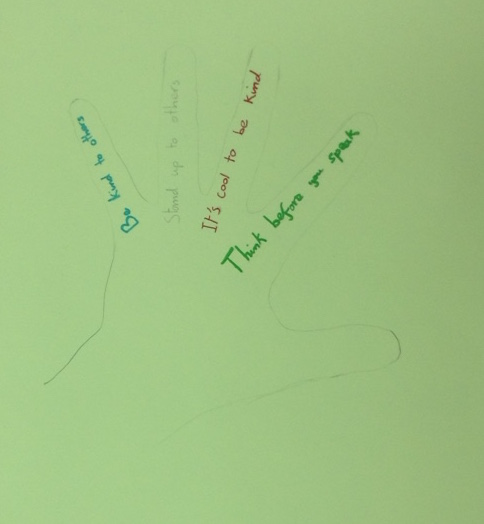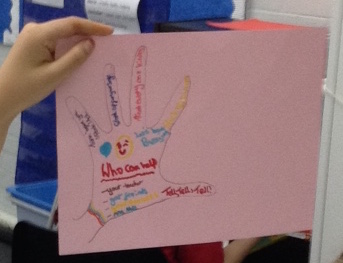 October 2016
Year 6 School Journey to the Isle of Wight
Day 1 - Year 6 have arrived on the Isle of Wight. All the children enjoyed the sunny ferry crossing over and are now off to take part in their first activities.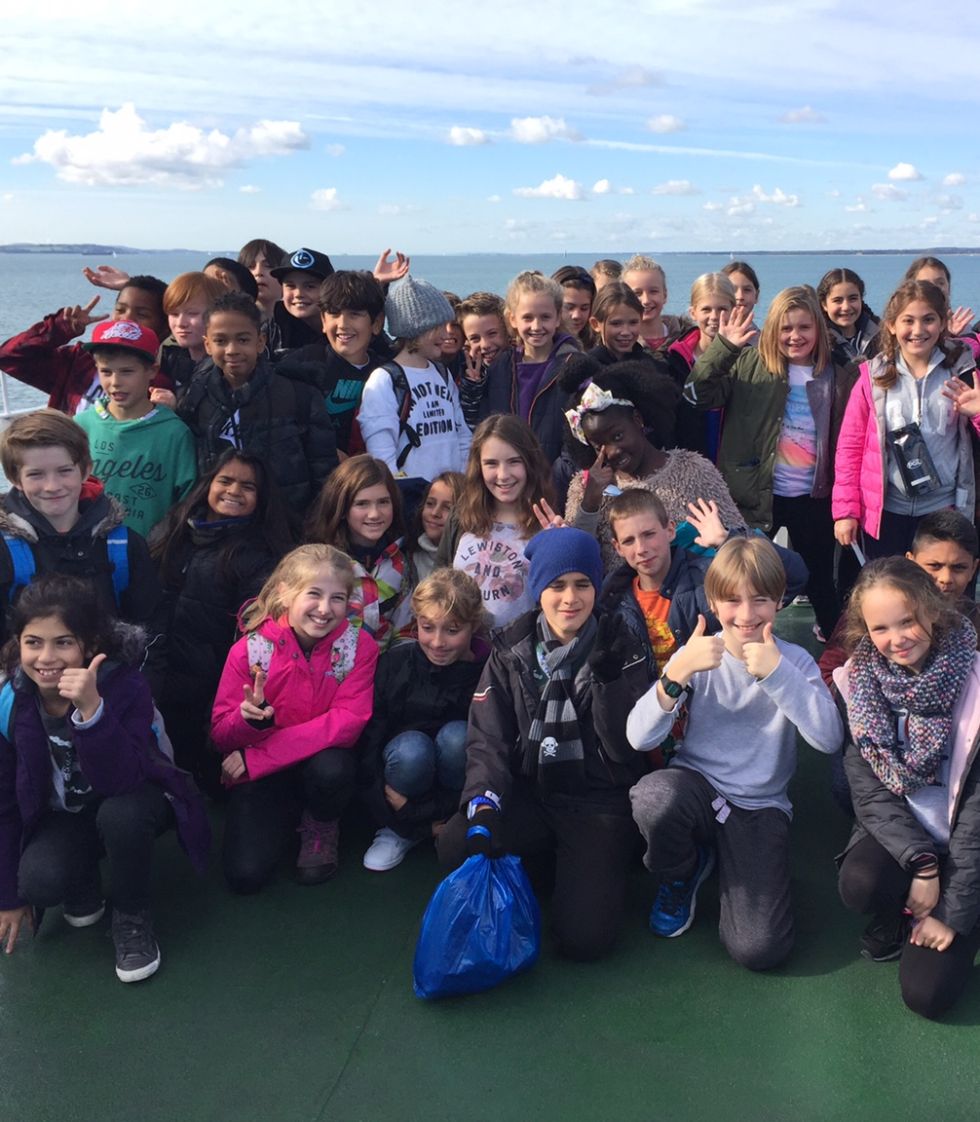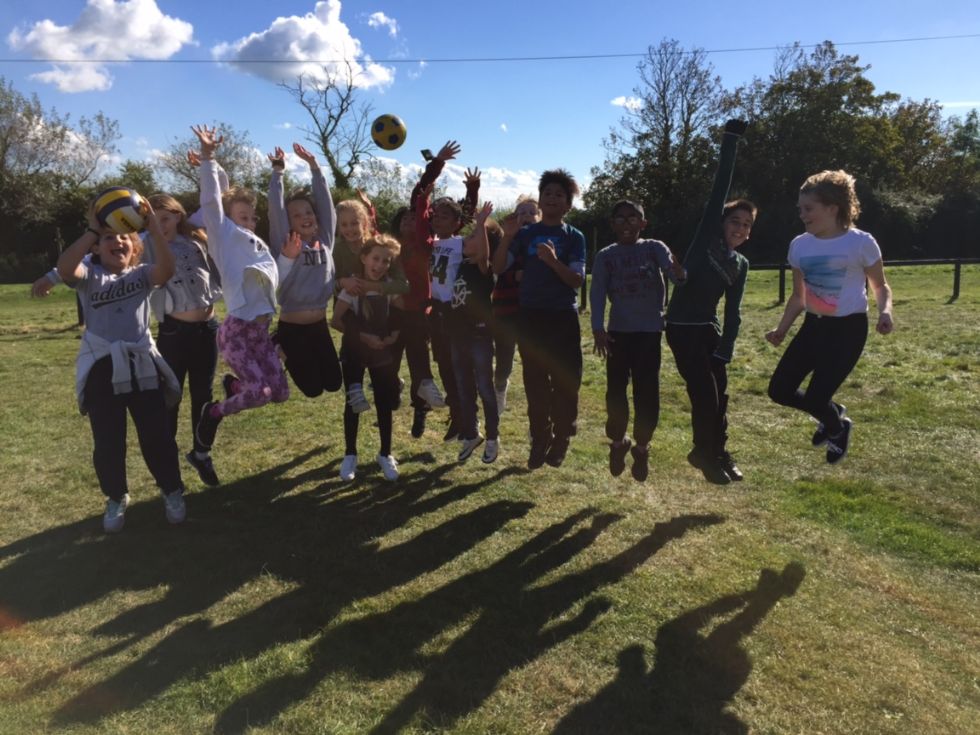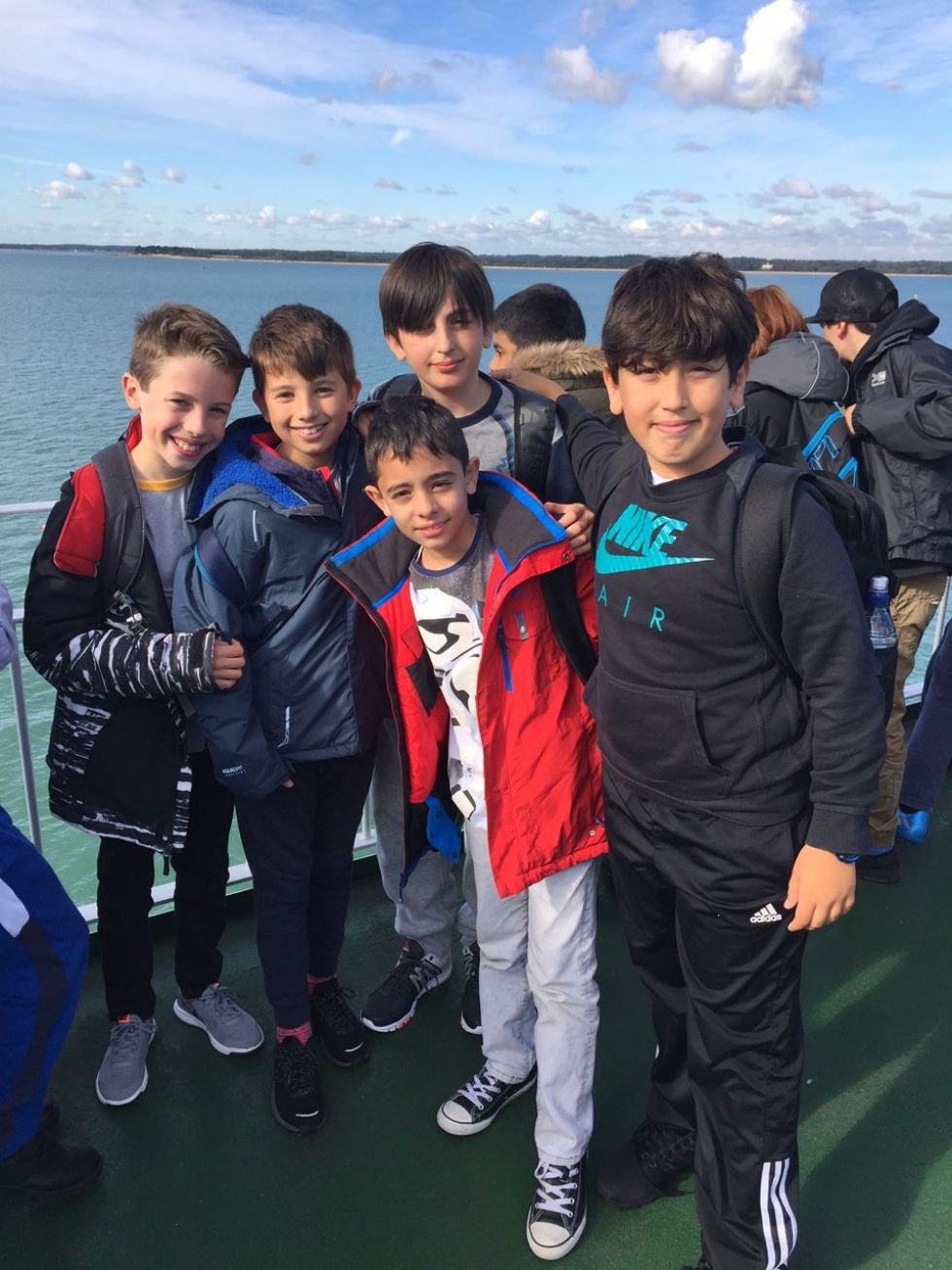 Day 2 - Rowan and Spruce spent the morning taking part in the activities on site and then had a lovely afternoon at the beach.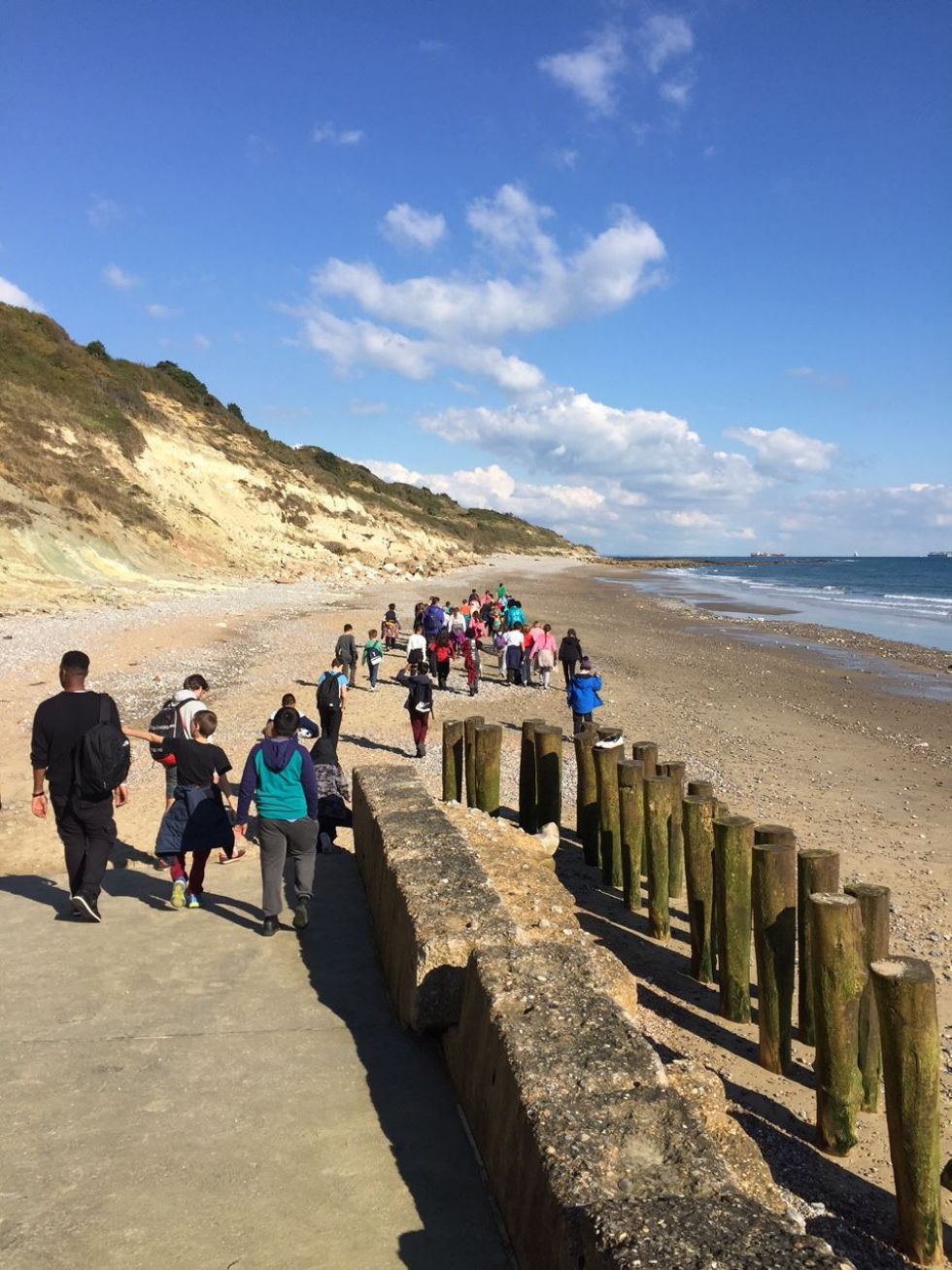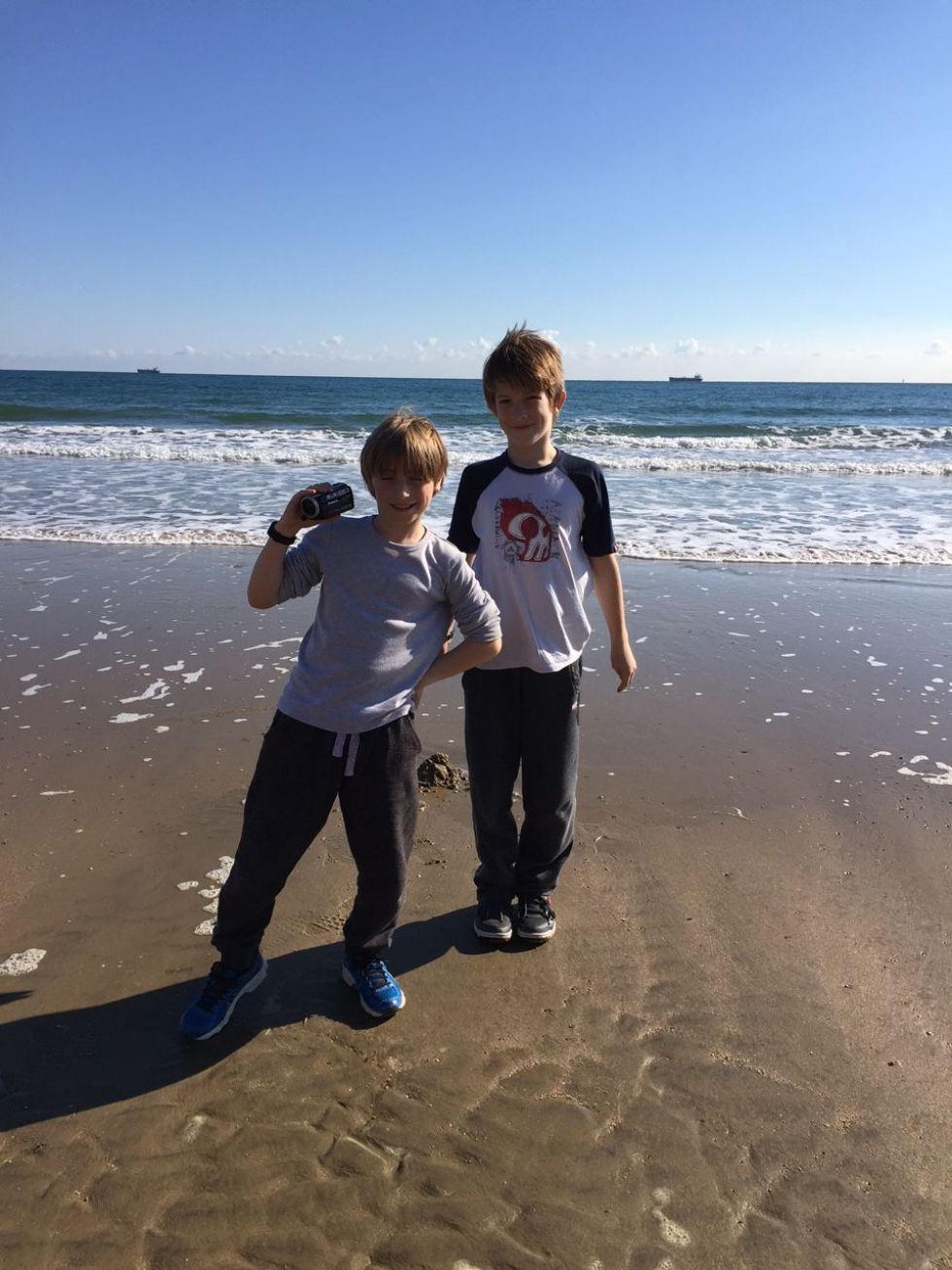 Day 3 - Year 6 have had an exciting day out today exploring the Isle of Wight. They have been on chair lifts at the Needles and visited a sweet factory. They later searched for fossils at Dino Isle and loved the evening campfire back on site.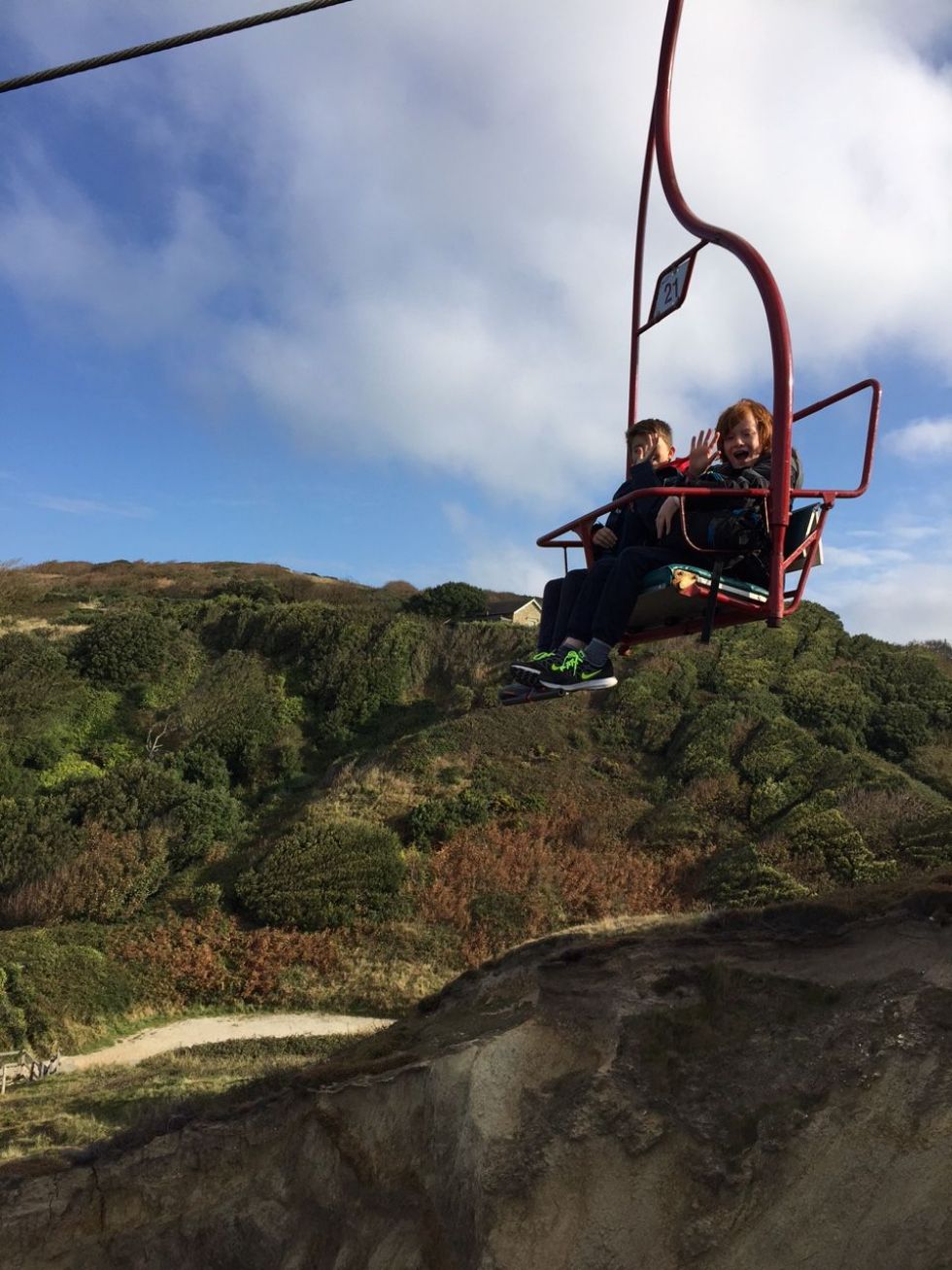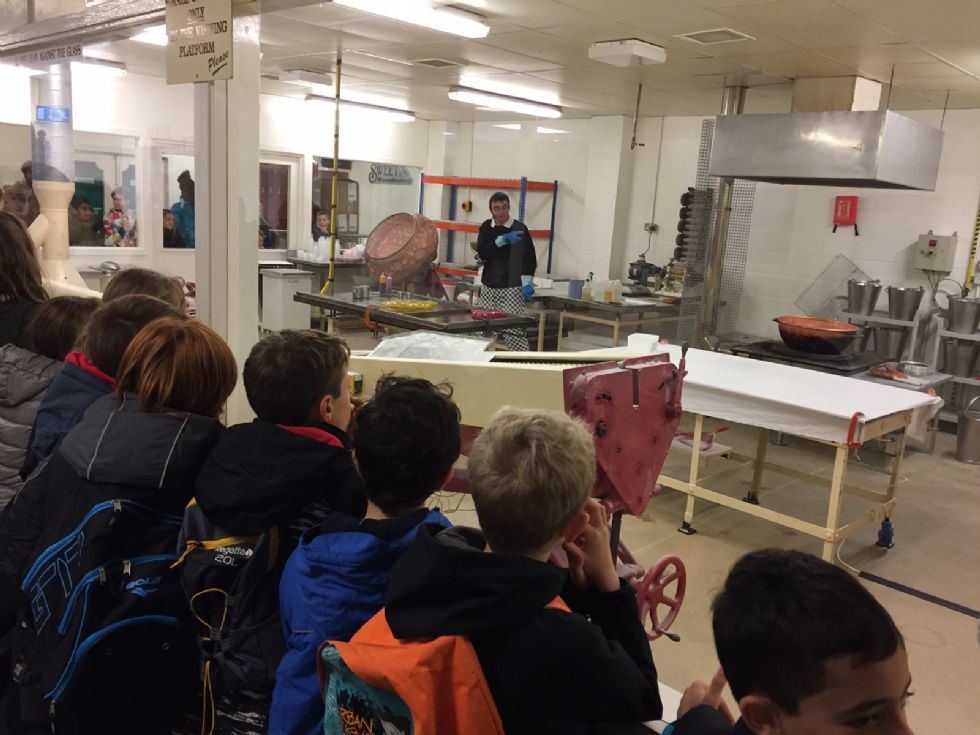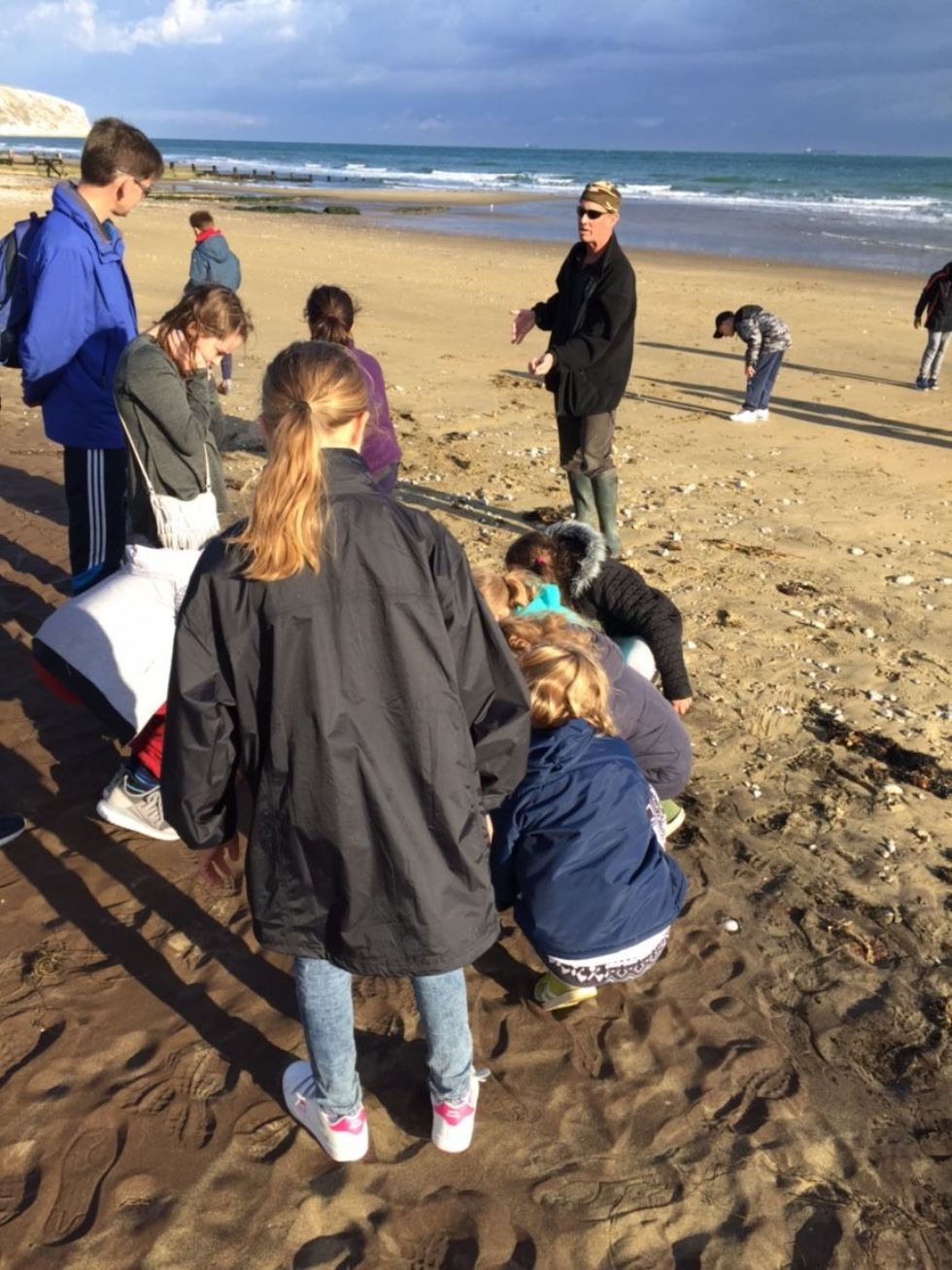 Day 4 - Year 6 have had a great time today taking part in all the different activities on site. All enjoyed the huge 3G swing.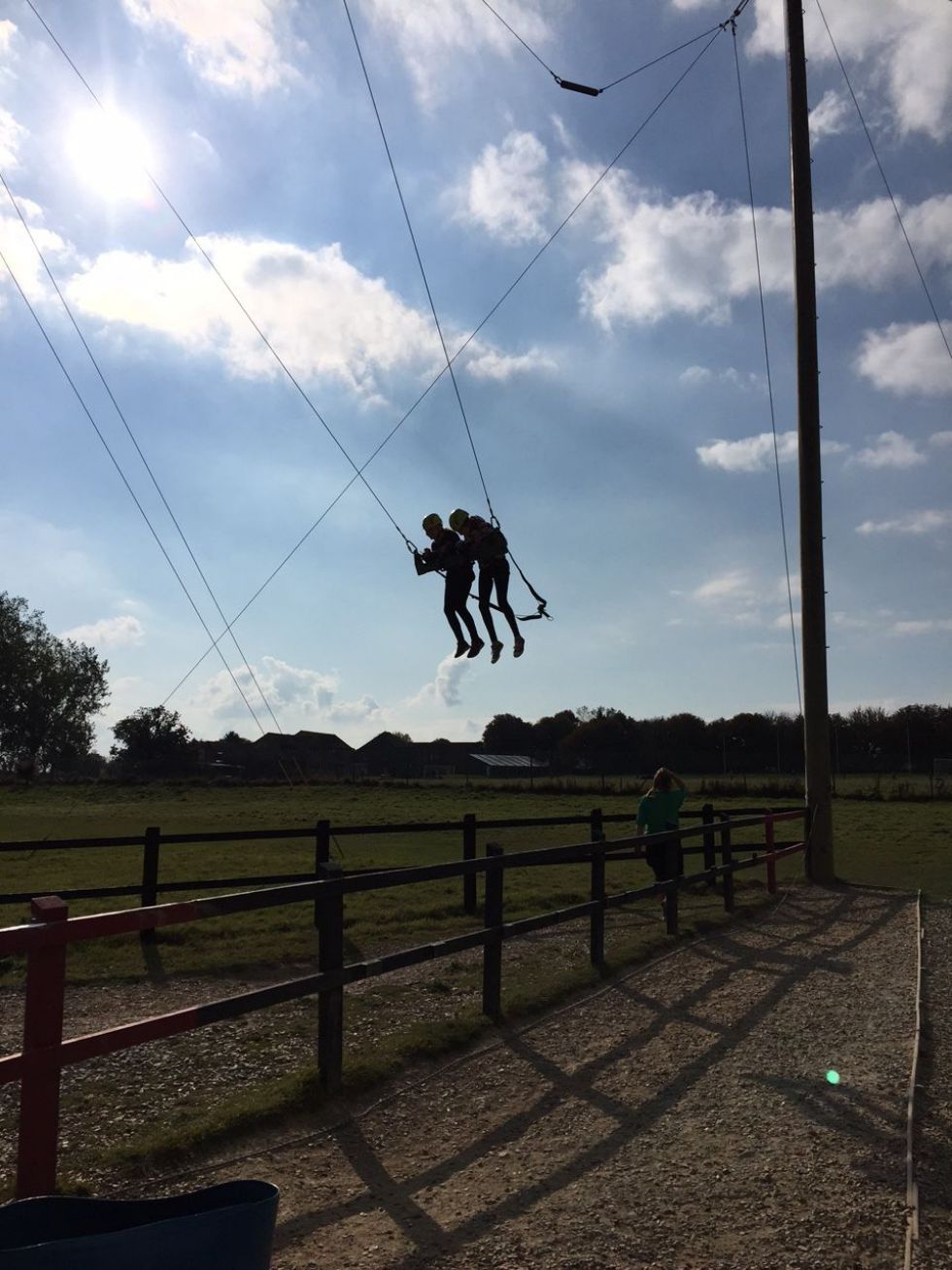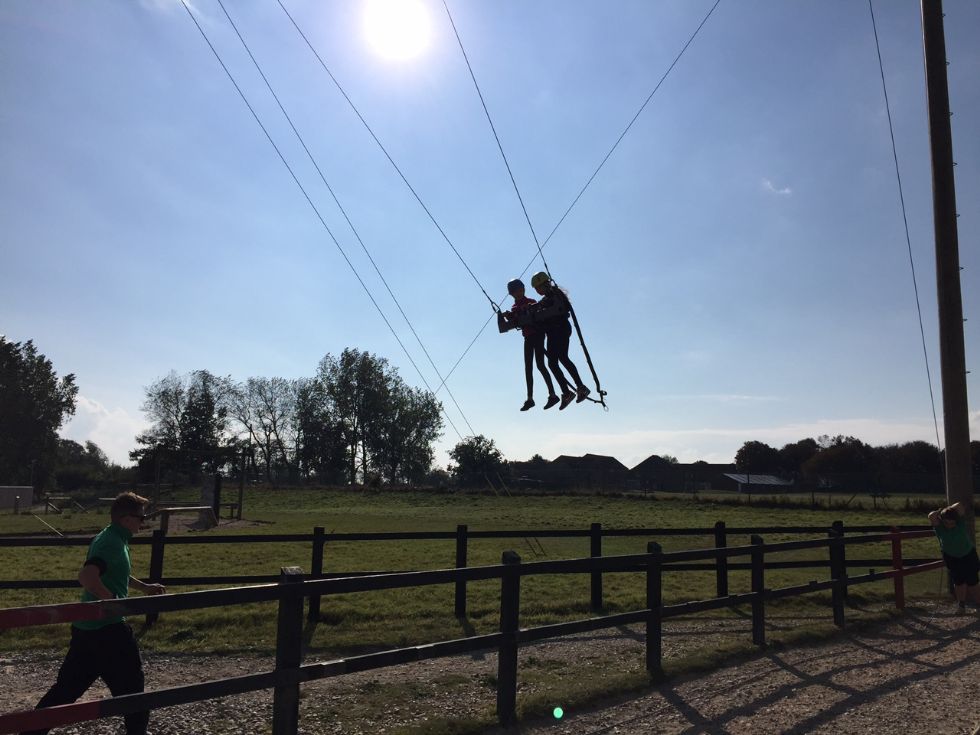 September 2016
Year 5 had an amazing time camping at Tolmers Activity Centre. The children enjoyed a range of activities, with orienteering and raft building the favourites. 'We enjoyed rafting because for many of us it was our first time. We liked working with each other to use barrels, wood and rope to build our own raft.' A real highlight was the evening camp fire where the children sang songs, drank hot chocolate and tucked into delicious S'mores. 'We loved the camp fire! The fire was as big as a car and the flames were dancing.' Thank you to Talia, Alex, Rebecca, Kate, Charlie and Iskander for accompanying the children on this trip and ensuring they all had a fantastic experience.
September 2016
We would like to welcome you all back to Bowes and hope that you had a lovely Summer Break. We have had a great start to the term with the children taking part in a range of exciting activities. We would like to welcome our new staff and families to Bowes and hope that you will be very happy at our school. Thank you to all the parents who attended our Meet the Teacher evening on Wednesday. We are all looking forward to another exciting year at Bowes.
April 2016
Bring an Adult to School Day
It was wonderful to see so many adults in school this morning participating in their childrens learning. I hope you found the Maths focus of the morning useful and have taken away some ideas of activities you can do at home to support your children.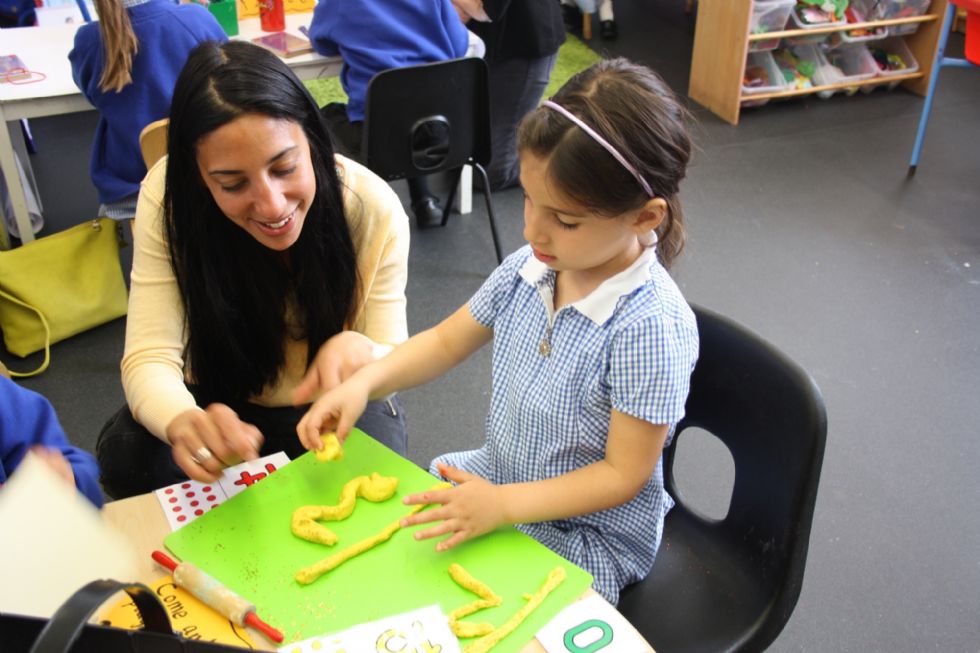 April 2016
Thank you Louie!
Today many children enjoyed a traditional English-themed menu to celebrate St. George's Day (April 23rd). Thank you to Louie and his team for always making these events so special for the children. Here are a few of the wonderful displays Louie has done for the children to celebrate occasions and to promote their interest in Healthy Eating.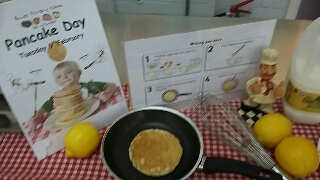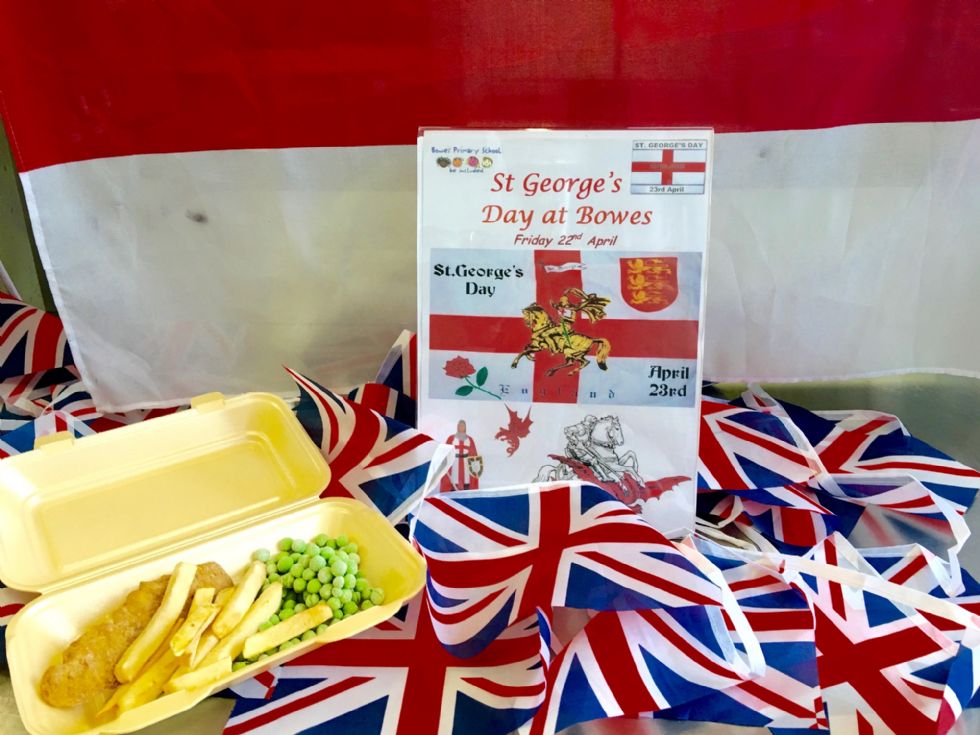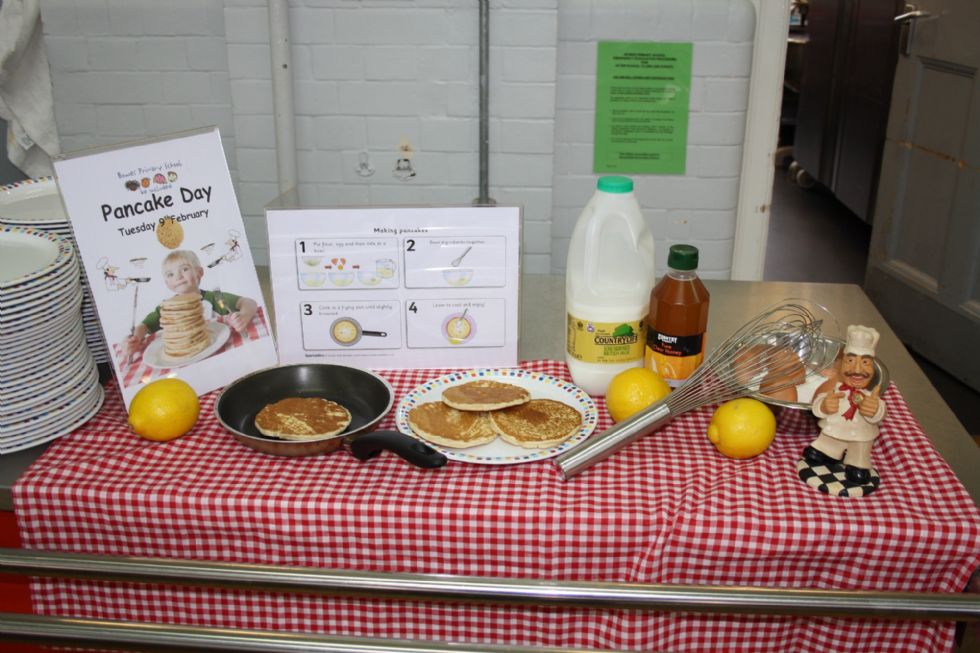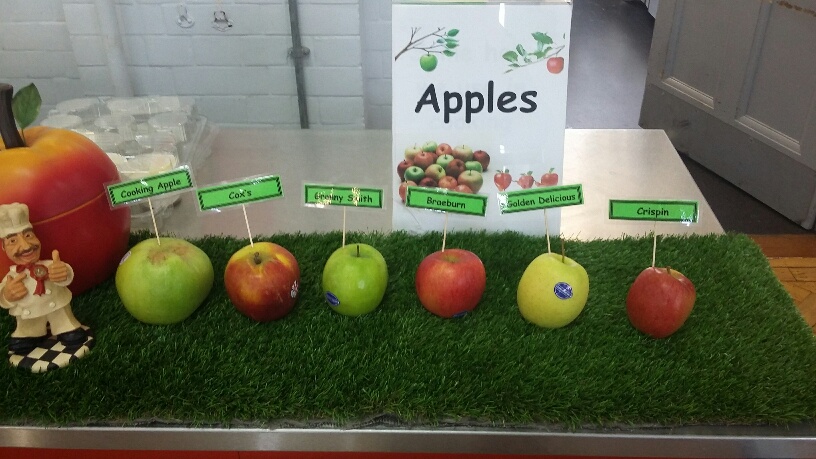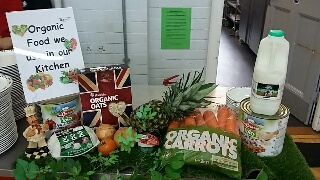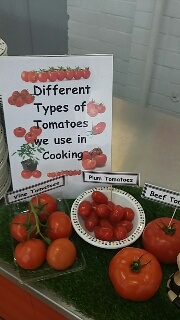 April 2016
'Top Class' Performance!

Bowes was invited to submit an application for a team (4 children and 1 teacher plus reserves) to take part in a new quiz show called 'Top Class'. The selection process including testing the children and interviewing them by Skype. The Bowes team - Izzie (team captain), Eliza, Pablo, Daniel and James - was selected and took part in the filming of the first show in front of a studio audience at the BBC studios in Glasgow last weekend. Other teams have been selected from all parts of the UK. It was amazing to experience the whole process, including the 'green room' and make-up. The team performed brilliantly, answering general knowledge questions, specialist subject questions and quick fire questions. Rahma was very brave in volunteering to be the teacher and she was subjected to quick-fire questions on popular culture. Bowes won the first round 37 points to 12 and will now go on to the quarterfinals, being filmed next month. Congratulations!
We are extremely proud of the children for their outstanding performance. They were commended on their teamwork, which certainly contributed to their success.
Thanks also to the parents who gave up their weekends to chaperone the children and to Debbie who coached the team to their success. Watch out for more news on this exciting opportunity.

April 2016
Children's Quizzes
Well done to all the Year 3/4 and 5/6 children who took part in the Friends of Bowes Children's Quizzes last week. They were both very well attended and children had lots of fun answering questions on a range of topics (general knowledge, movies, London, sport), taking part in a cracker-eating challenge and having to taste different chocolate brands to identify each of them! The Friends of Bowes provided lots of fantastic prizes and hot dogs for the children. Everyone had a lot of fun and children have been talking about how much they enjoyed themselves. Thank you to everyone involved this event and of course to Debbie for organising it.

March 2016
Sport Relief 2016
March 2016
COMMUNITY WORK
Our Ambassadors and some of our School Councillors attended a 'WE Day' event at Wembley. They heard speeches from many inspirational people and were definitely inspired to take action locally and globally to identify issues and help others. The children took all your fantastic contributions for the Trussell Trust to distribute to food banks. The Trust were very grateful for the generous contribution from Bowes. The WE Day/Team London organisation will also be delivering an assembly and workshop in April to all of KS2.​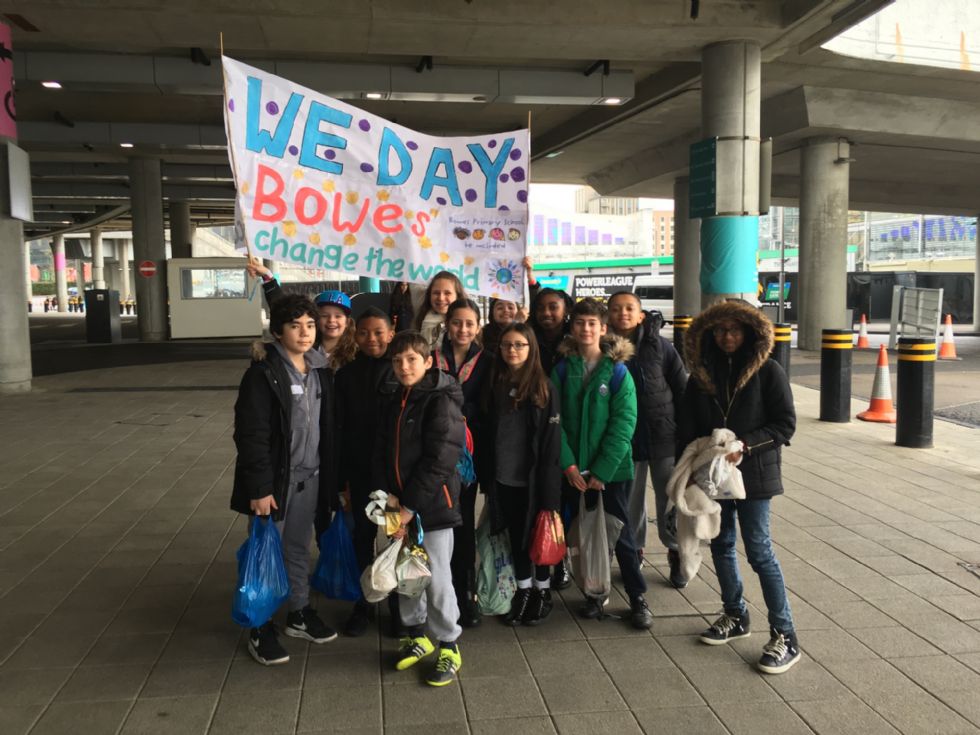 February 2016
Congratulations to Grace (Oak) and David (Apple) who were runners up and winners respectively in the Enfield Road Safety Poetry Competition. Sally Symons from Enfield Council presented the trophy and goody bags in an assembly earlier this week.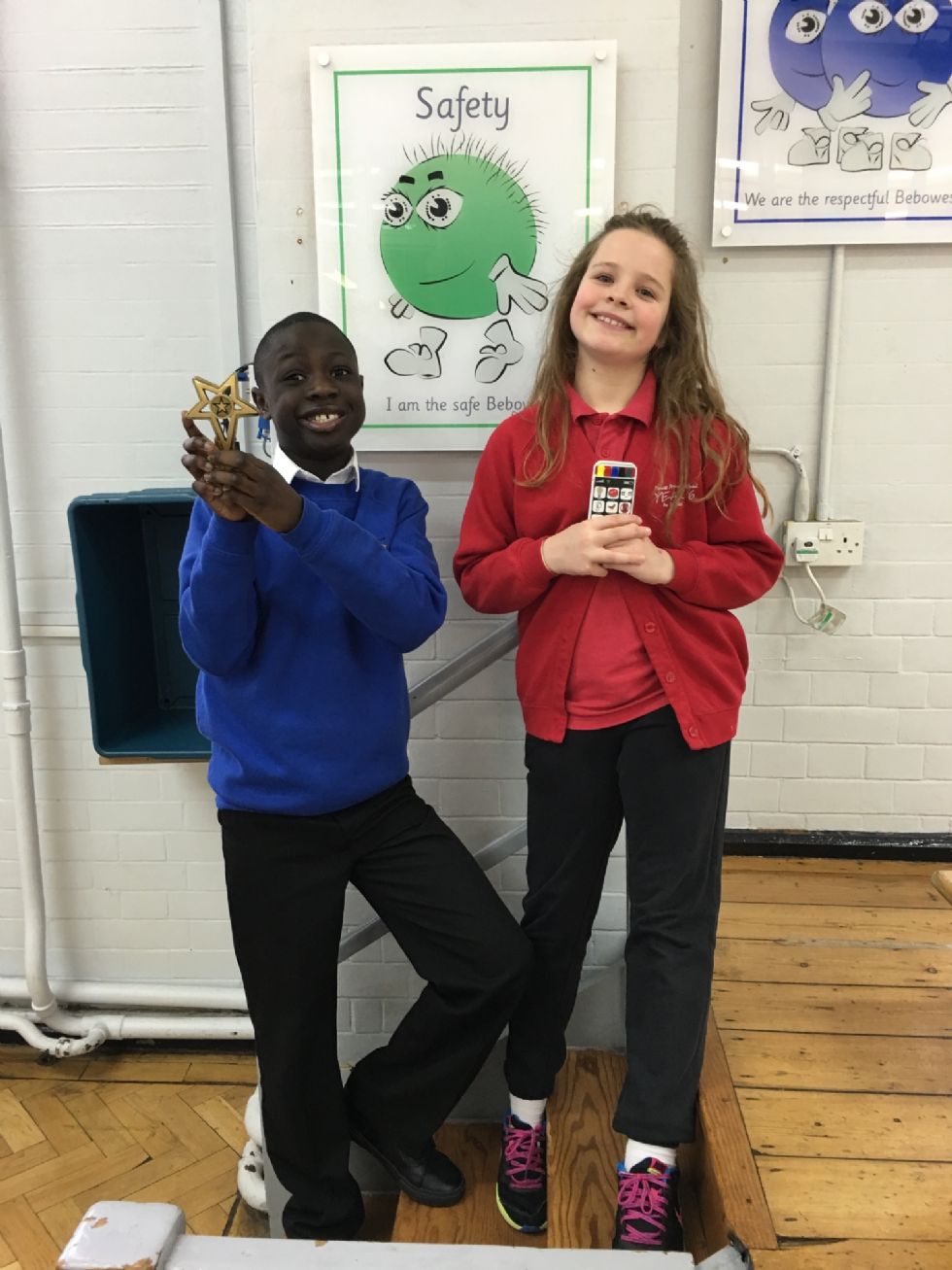 January 2016
International Visitors

Last week we were host to a large number of European Apple Mac visitors who were attending the BETT exhibition in London. Our visitors were very impressed with the technology we have at Bowes and how confidently our children and staff use the resources to support learning. We were also very proud of the children's ability to explain what they were learning, displaying excellent communication skills. The three days were extremely successful with lots of very positive feedback.
Well done everybody!
December 2015
The Royal Albert Hall Concert
Last Wednesday we took our Year 5 & 6 Choir (49 children) to perform, along with 30 other school choirs (1000 children), on stage at the Royal Albert Hall. The event was organised by Young Voices who aim to give children a musical experience they will never forget! We certainly had that! Our children worked hard, sang beautifully and had an amazing time! The show included other professional acts, e.g. Lucy Rose and 'Urban Strides' that our children were able to watch. All really exciting! The event was also a fundraising event for CLIC Sargent – a leading charity supporting children and young people with cancer. Best summed up in the words of our children:
"It was mind-blowing "
"An experience of a lifetime! "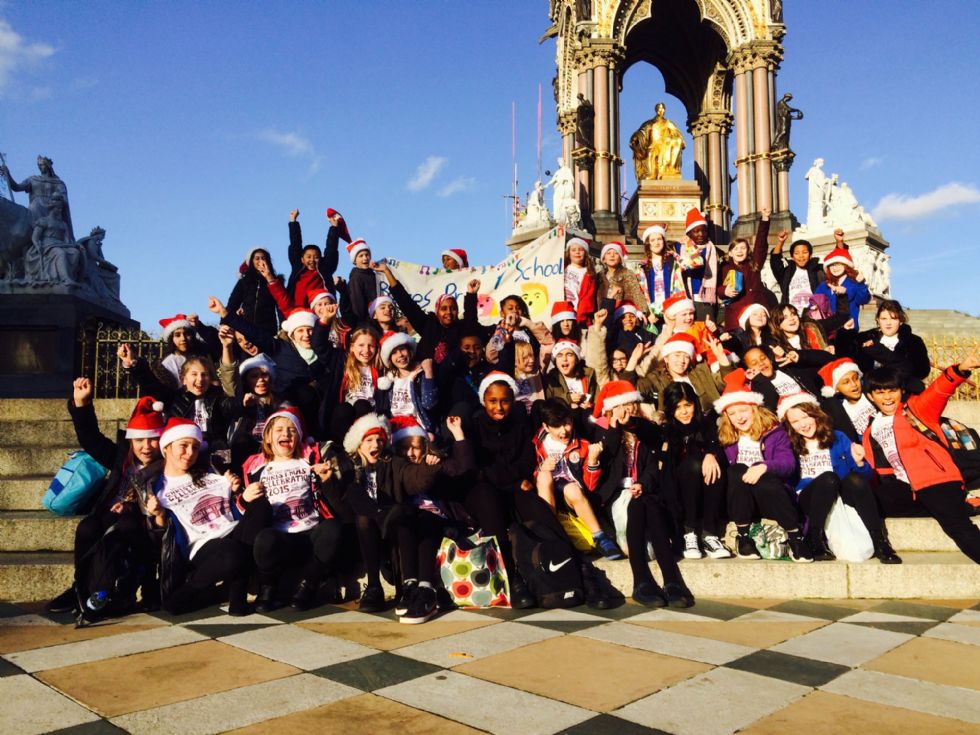 November 2015
Anti-Bullying Day


All children in school took part in various anti-bullying activities on Friday, 27th November following assemblies earlier in the week. Children in years 3, 4, 5 and 6 were all mixed up and took part in circle time, lessons, discussions and creative work connected to anti-bullying. In the afternoon they all created their own 'soul birds' to represent thoughts, feelings and positive advice to avoid bullying incidents. All the children's work will be displayed as 'bunting' around the school. It was a lovely, positive and fun day and fantastic to watch older children helping and working with the younger ones. If you want to read the Soul Bird at home it is a book by Michael Snunit which explores feelings and carries a philosophical message for children and adults alike. Look out for some 3-D models which will appear in school soon.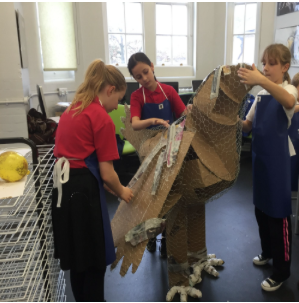 October 2015
Year 6 School Journey
Monday - Year 6 have arrived at Kingswood and are all very excited. They had a very good journey down with a sunny and calm ferry crossing. The children have visited Carisbrooke Castle and are looking forward to their first activity later today.
Tuesday - The sun is shining on the Isle of Wight! The children have had a good first night and are now off taking part in various activities.
Wednesday - Year 6 had a great time yesterday and took part in a range of activities, including Go Karting, Night Line and Orienteering. Today they are all off to visit the Needles and Dino Isle.
Thursday - Yesterday the children had a very busy day! They had lots of fun at the Needles and loved going on the chair lift. They also visited the sweet factory and the sand shop. In the afternoon they went fossil hunting on the beach at Dino Isle. Today they have a packed day full of activities, including a disco tonight!
Friday - Year 6 are spending the morning taking part in their final activities. These include Team Challenge, and for some Leap of Faith and 3G Swing.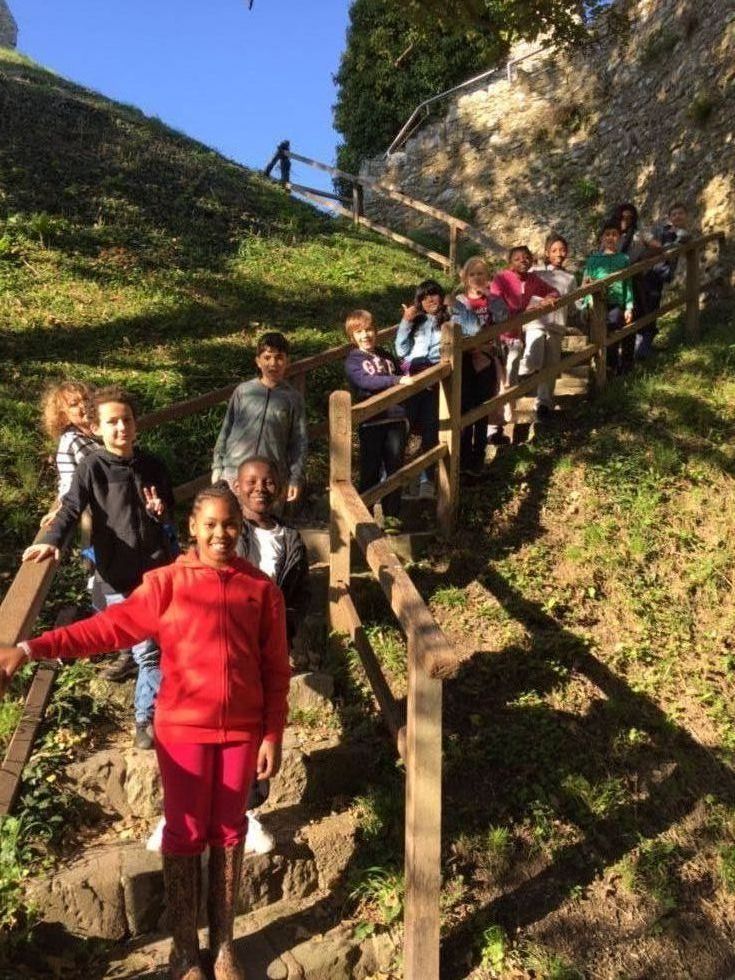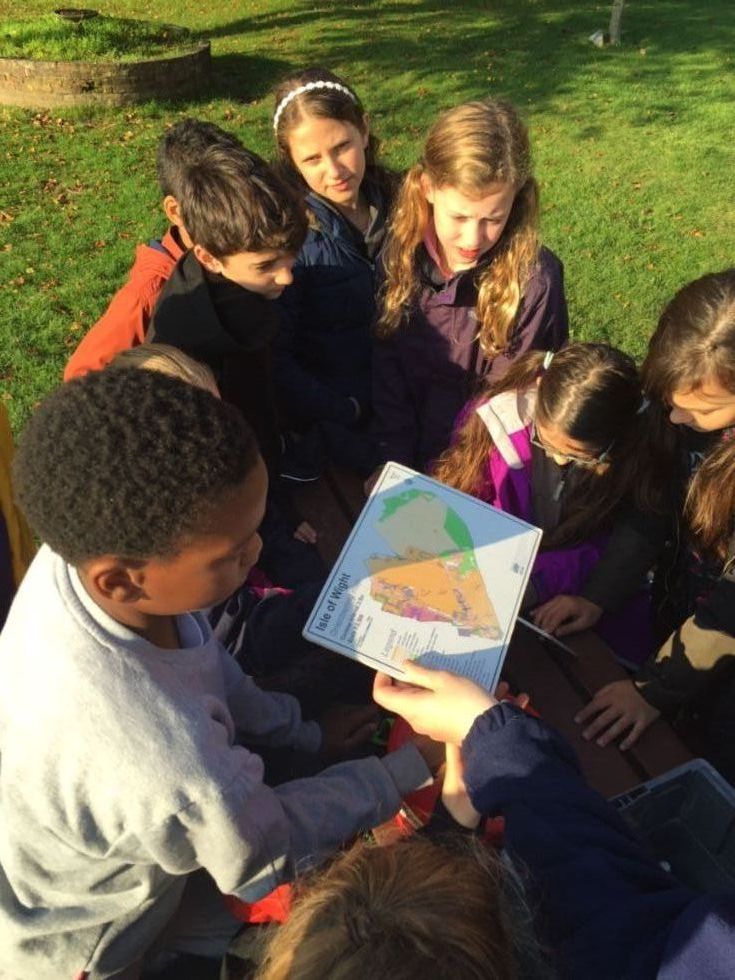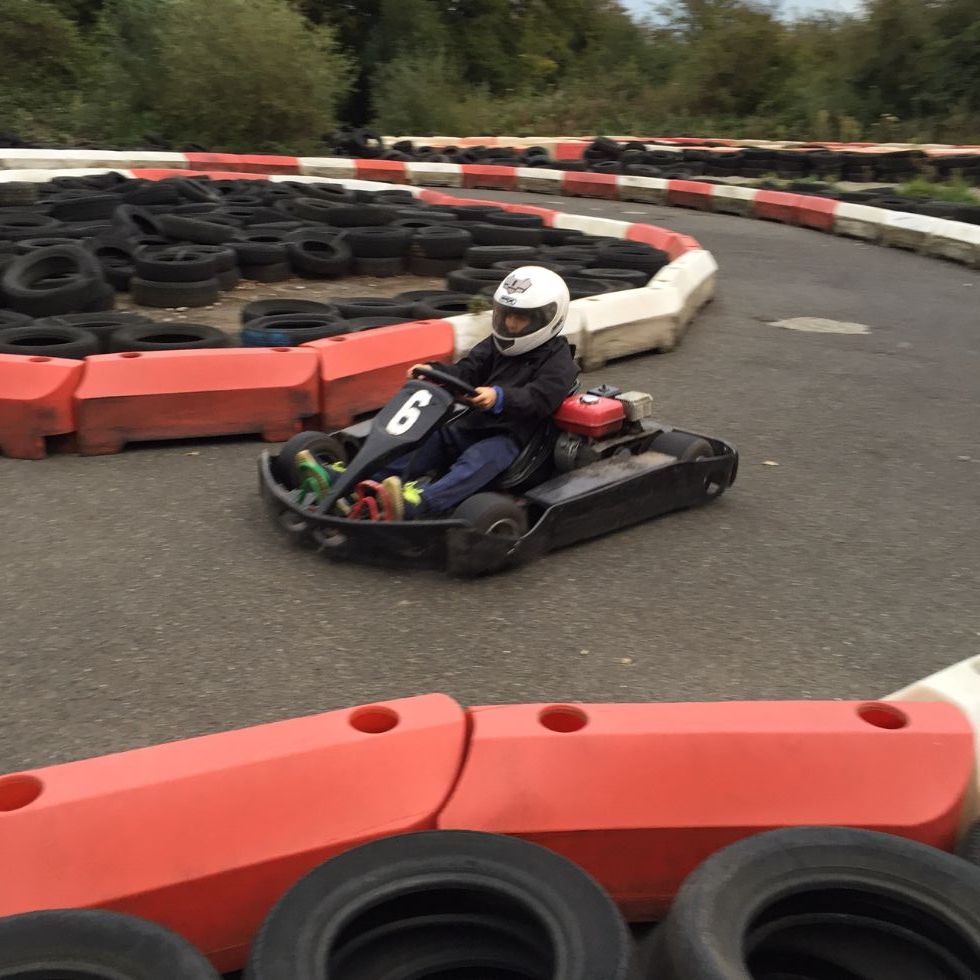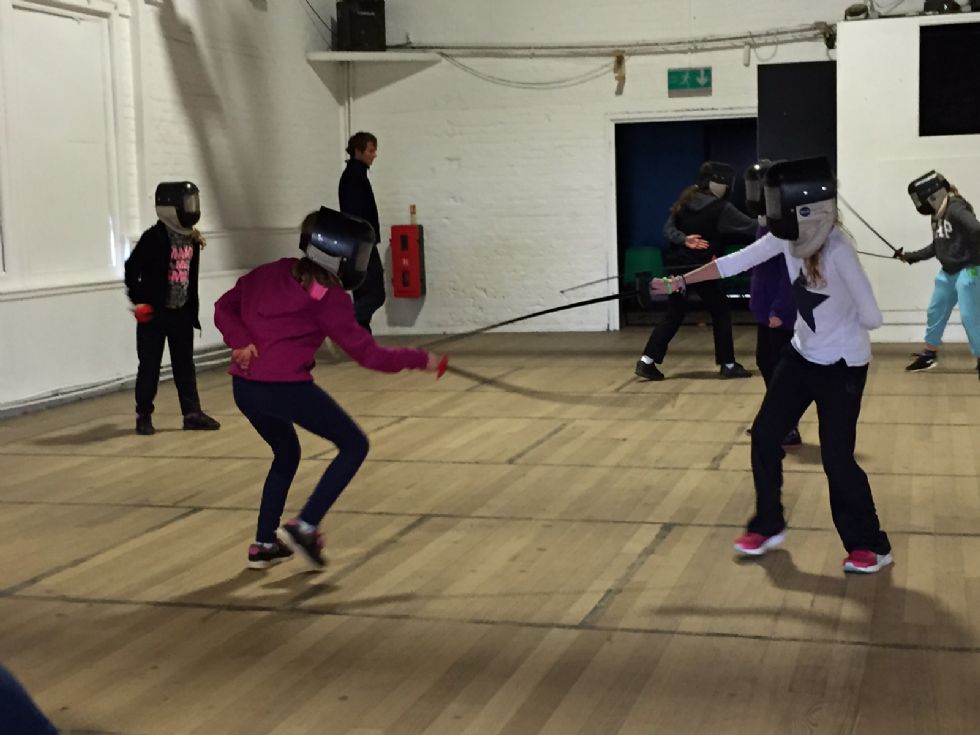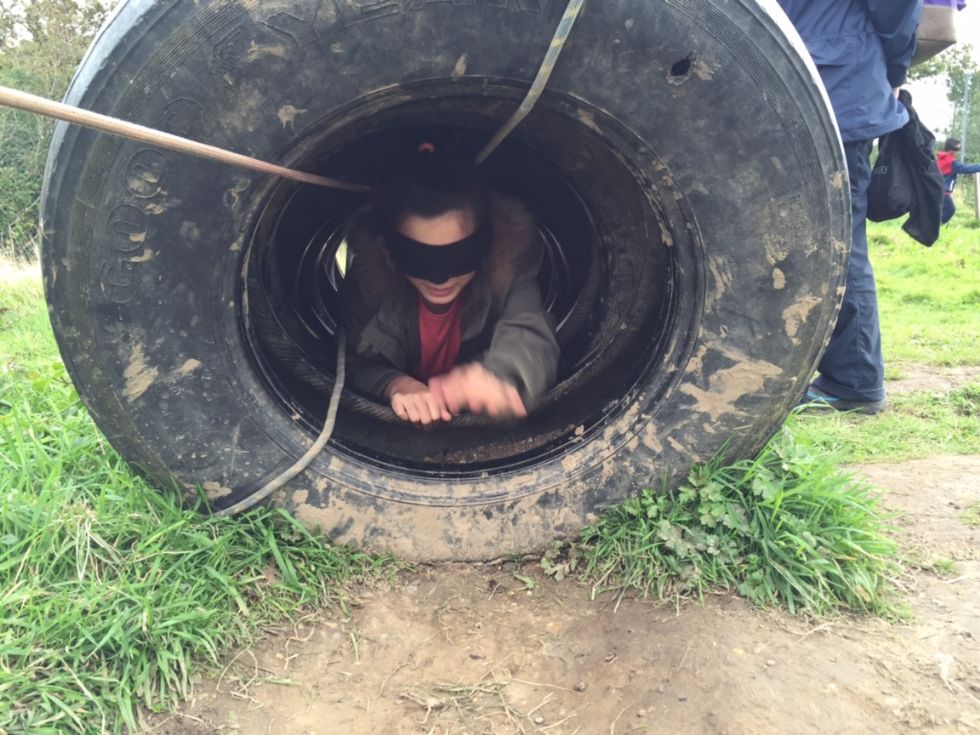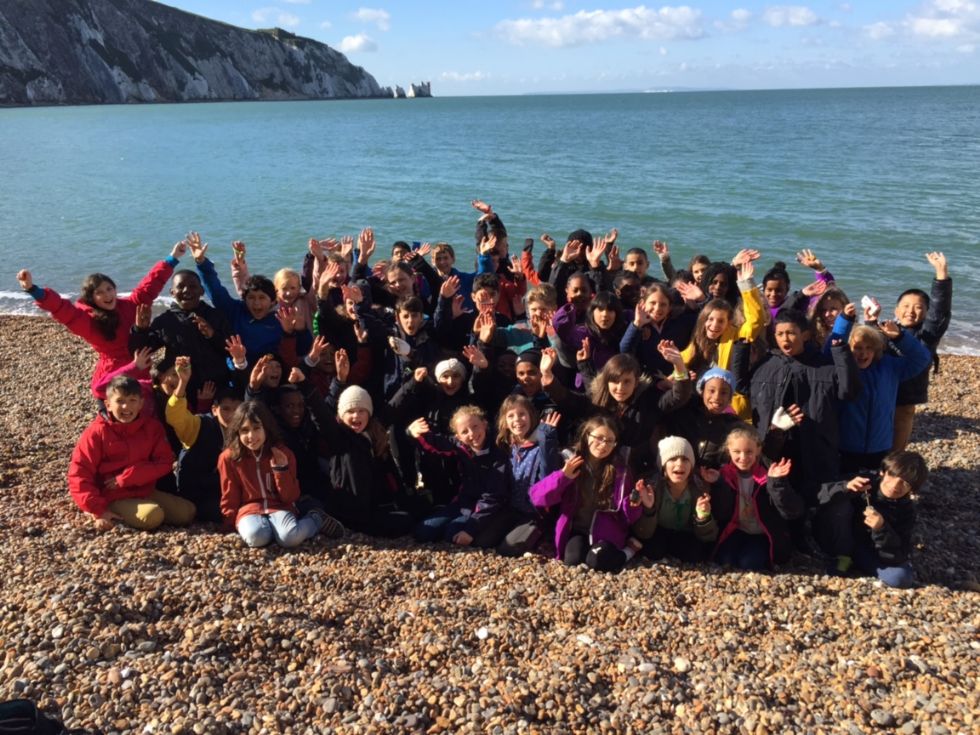 September 2015
Year 5 Camping
Year 5 had an amazing time camping in the woods, despite the heavy rain! The children enjoyed creating outside adventures, preparing meals for each other and a joint Year 5 campfire.Thank you to Lorna, Alex, Sharon and Anna who accompanied the children on this trip and ensured Rowan and Spruce had a fantastic experience. Thank you also to John and Dave, our Bowes Learning Alliance residential team, for all their support over the three days.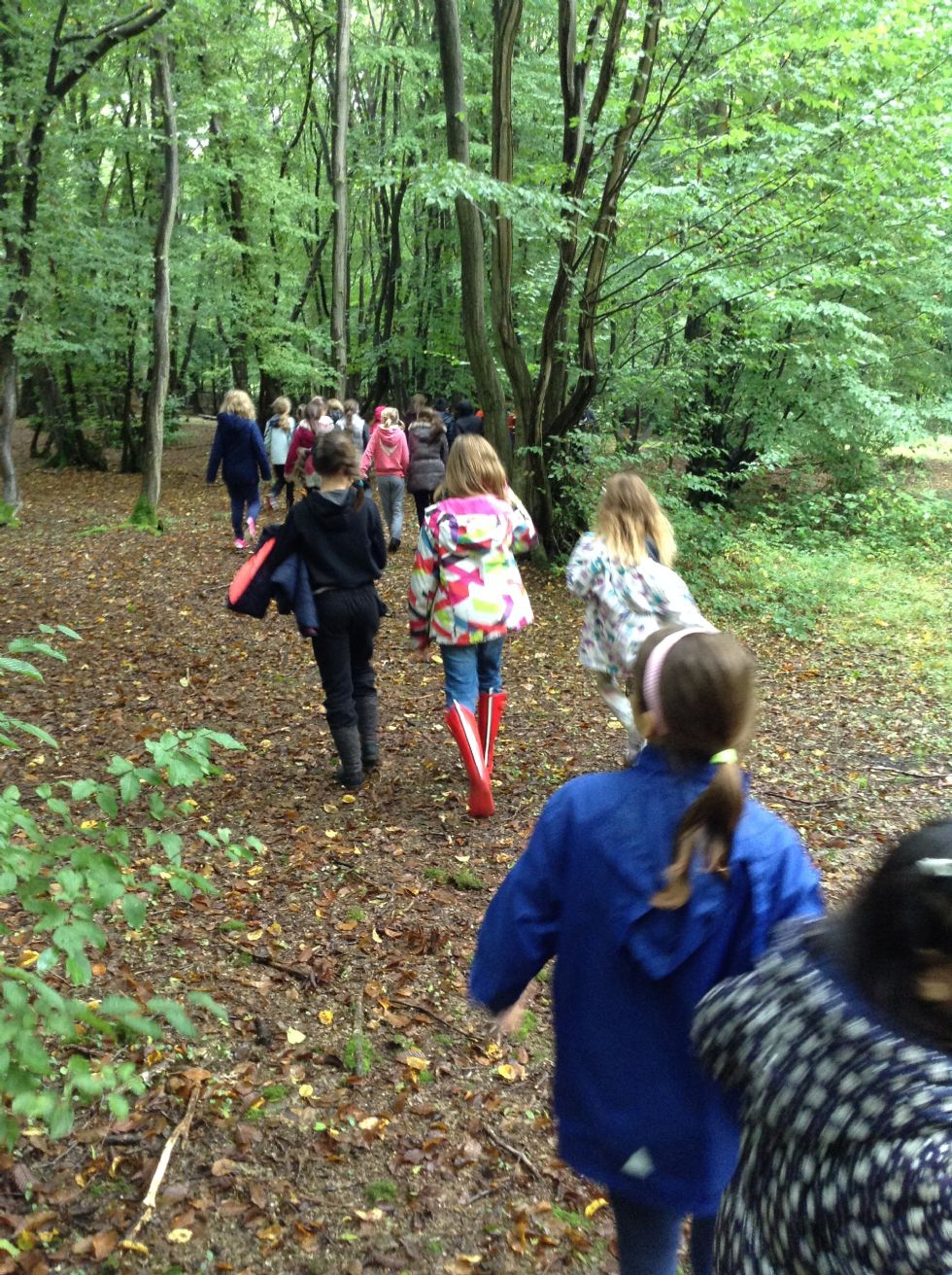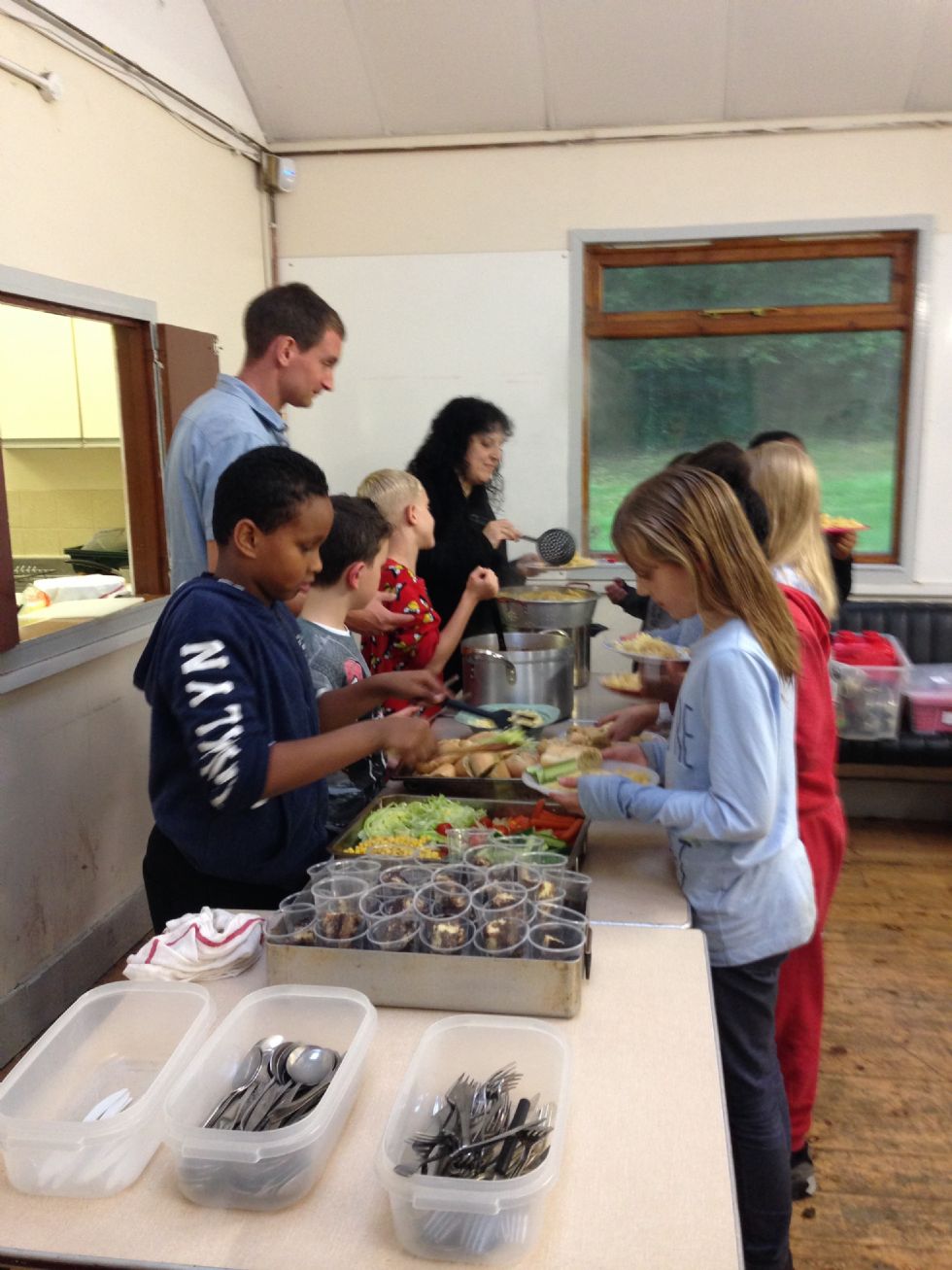 Welcome Back!
We would like to welcome you all back to Bowes and hope that you had a lovely Summer Break. We have had a great start to the term and are looking forward to another exciting year.
We are relaunching our Bebowes this year and linking them to our revised Values. These Values are really important and will be linked to our PSHE curriculum, circle time, assemblies and everyday life at school. This half term we are focusing on the Responsibility Bebowe so please discuss this Value with your child at home and how it relates to them.